Cork Bible Institute

Welcome to a College Level Bible Study Course!
Instituted March, 1999
The goal of this study course is as follows Ė each of these are differing levels of intensity, starting with the easiest:
Level

One
To enhance a Christianís understanding of the Scriptures for the purpose of being able to teach the Bible either in a Sunday School situation, or as a Discipler of new Christians.

Level

Two


To prepare the Christian to clearly preach the Gospel and faithfully pastor a church.

Level

Three (the hardest)
To prepare Bible-believing Missionaries to start churches anywhere in the world, starting in Ireland!.
There is no greater call, nor challenge than to teach and preach Godís word to our generation! If you know God has called you to serve Him, yet lack adequate confidence in Bible Doctrine, or desire a balanced systematic study on a college level, then this Bible Institute course could be for you.
Currently there are 9 students enrolled in classes for the 2014 school year.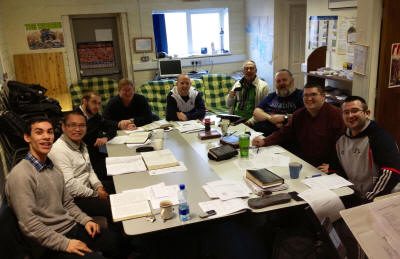 The current Courses being taught are:
9am The First Principles Discipleship Course. This two semester class teaches the 21 lessons of our First Principles Discipleship Course in a classroom setting. Normally Discipleship takes place in small groups, but this class allows people to take the course who might have not had the time yet so this time slot has been made available.
10.15am The Book of Revelation (B-033, B-034) The Book of the Revelation is Jesus Christís letter to all churches concerning the future of all mankind! This Book caps off the entire Bible, and explains the coming seven years of world tribulation, the antichrist, the false prophet, world-wide plagues, the Great White Throne Judgment of all the unsaved, the new heaven and new earth, the new jerusalem, and about 100 more amazing future events that every believer needs to know about and look forward to!
11.30am How to Study the Bible (P-040). A Practical Introduction on How to Study and Live By Godís Word, the Bible! In this class we will look at the necessary and vital procedures that you must have in place to adequately understand what you are reading in the Bible.
The Book of 1st Samuel on Wednesday Evenings. This Old Testament Book is a great example of the work of God in the lives of His people! Sign up today for this time to be counted towards credit, and get started taking notes, and you can earn Bible Institute Credits right away!
Would You Like a Information Packet About our Bible Institute?
The Bible Institute is for Irish Nationals, or people who are currently living in Ireland. people living outside of Ireland cannot currently apply for course credit, but ARE WELCOME to download and complete the course materials, and they can purchase the course quizzes and Final Exams.
Click Here and Request an Information Packet
COURSES on OFFER
Extended Bible Studies
Dispensational Theology
Covenant Theology
Preacher Training
Teacher Training
Argumentation and Debate
How to Study the Bible
The Work of The Ministry
The Call of God
The Preacherís Library
The Basis and Structure of Authority
Human Government
Standards and Convictions
Current Issues
Overview of the New Testament
Overview of the Old Testament
The Gospel of Matthew
The Book of Genesis
The Book of Acts
The Book of Psalms
The Book of Romans
The Book of Ephesians
The Book of Philippians
The Book of Hebrews
The Book of Revelation
Pastoral Epistles (1 & 2 Timothy, Titus)The Book of Galatians
The Book of Job
The Book of Proverbs
Ecclesiastes
The Books of 1st and 2nd Corinthians
The Book of Joshua
The Book of Judges
The Book of Daniel
The Books of 1 & 2 Thessalonians
The Book of Joel
The Books of 1,2 & 3 John
The Epistle of James
Church History 1-4
Soteriology - Doctrine of Salvation
The Doctrine of Man
The Doctrine of God
Angelology
Introduction to Church Planting
Church Planting II
Church Planting III - TeamWork
The New Testament Church
Personal Evangelism
The World's Religions
The History of The Baptists
Roman Catholicism
Calvinism

Cults Introduction
Cults - The Seventh Day Adventists
Cults - The Mormons
Cults - The Jehovahís Witnesses
Cults - The Church of Christ (Campellites)
Cults - The Satanists
Cults - Advanced Study
Problem Texts
An Introduction to New Testament Greek
Manuscript Evidence
Introduction to Hebrew
Principles of Scripture Translation
Translation Exercises