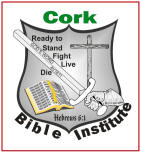 Cork Bible Institute
Spring 2015 Course
(B-033)
The Book of the Revelation of Jesus Christ - Part 1
Chapters 1 - 11
A verse-by-verse study of this intense revelation about the future of this world!
The Book of the Revelation is Jesus Christís letter to all churches concerning the future of all mankind! This Book caps off the entire Bible, and explains the coming seven years of world tribulation, the antichrist, the false prophet, world-wide plagues, the Great White Throne Judgment of all the unsaved, the new heaven and new earth, the new jerusalem, and about 100 more amazing future events that every believer needs to know about and look forward to!