Some Irish Connections
The Gospel of St. John

Chapter 3, and verse 16 in Irish
"Oír is mar so do ghrádhuigh Día an domhan, go dtug sé a éinghein Meic fein, ionnus gidh bé chreideas ann, nach rachadh sé a mugha, achd go mbeith an bheatha shiorruidhe aige."

1817 edition of the William O'Domhnuill New Testament of 1602,

"Óir ghráigh Dia an domhan chomh mór sin gur thug sé a Aonghin Mic uaidh i dtreo, gach duine a chreideann ann, nach gcaillfí é ach go mbeadh an bheatha shíoraí aige."

More modern text


"For God so loved the world, that he gave his only begotten Son, that whosoever believeth in him should not perish, but have everlasting life."


King James Bible
No matter what language your heart speaks, it is heard in heaven, and is answered by what Jesus did for you on the cross, 2,000 years ago. It was Jesus who said (and only HE could say it):
"IT IS FINISHED!"
"COME UNTO ME!"
"I AM THE WAY THE TRUTH AND THE LIFE!"
Believe ONLY on the Lord Jesus Christ, and you will be saved! (Acts 16:30,31)!
Saved from hell, from your sins, and from the suffering that a sinful life only brings with it!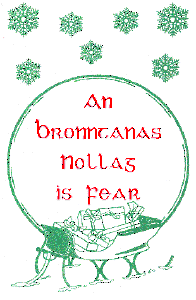 The Christmas Story in Irish and English
If you are an Irish-speaking Christian, we would like to talk to you about a project to re-publish the old Irish Bible of Bedel.
Please contact us at this Email