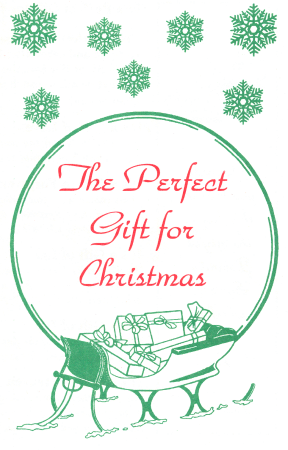 "For unto you is born this day in the city of David a Saviour, which is Christ the Lord."

Luke 2:11

The Perfect Gift for Christmas . . .

This year, forget the crowded Shopping Centres, Department Stores, Toy Shops, and Christmas Catalogues – there is a free gift waiting to be delivered to you this Christmas! It is a gift so easily missed in all the rush! But it is a gift that no one can do without!

It is the Gift of Love

"For God so loved the world, that he gave his only begotten Son, that whosoever believeth in him should not perish, but have everlasting life." John 3:16

It is the Gift of Forgiveness

"Be it known unto you therefore, men and brethren, that through this man (Jesus) is preached unto you the forgiveness of sins." Acts 13:38

It is the Gift of Life

"Verily, verily, I say unto you, He that heareth my word, and believeth on him that sent me, hath everlasting life, and shall not come into condemnation; but is passed from death unto life." John 5:24

It is the Gift of Joy

"And the angel said unto them, Fear not: for, behold, I bring you good tidings of great joy, which shall be to all people." Luke 2:10

It is the Gift of Heaven Itself

"In my Father's house are many mansions. I go to prepare a place for you. And if I go and prepare a place for you, I will come again, and receive you unto myself." John 14:2,3

If this Gift is Neglected, there is no other Hope!

"He that believeth on him is not condemned: but he that believeth not is condemned already, because he hath not believed in the name of the only begotten Son of God." John 3:18
The Gift of God's Son, Jesus…
"For God sent not his Son into the world to condemn the world; but that the world through him might be saved." John 3:17
This Christmas could be the greatest Christmas of all time for you – the one where you accepted the free gift of eternal life, from Jesus!
"For the wages of sin is death; but the gift of God is eternal life through Jesus Christ our Lord." Romans 6:23
As with any gift, you cannot earn it – you simply accept it by faith in the unfailing promise of God, that, "Whosoever shall call upon the name of the Lord, shall be saved." Romans 10:13
Ask Jesus Christ in prayer right now, to forgive your sins, save your soul from hell, and give you the Gift of Eternal Life! Your eternity depends upon it!
---
To learn more, or to request a free
Bible Study Course, contact:
Bible Baptist Church of Ballincollig
Sundays at 10.30am and 6pm in the

Westgate Foundation, Main rd, Ballincollig, Co. Cork.

Or write, BBC, c/o 29 Westcourt Hghts,

Ballincollig, Cork. Tel: (021) 4871234
On the Web:
www.biblebc.com
E-mail