PREACHING
| | |
| --- | --- |
| Tom Benson | Craig Ledbetter |
MUSIC

<![if !vml]>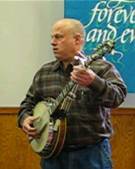 <![endif]>

Godly
Gospel Music
EVANGELISM

Evangelistic Church Meetings

Musical Street Performances in Cork and Killarney

Door-to-Door Soul-Winning
CHRISTIAN FUN

Trip to Killarney

A Day in Dingle

Teen Evangelism Explosion

Pizza Night

Christian Fellowship
at every Meeting
This is what Revival is - God calling everyone to a real, living, vibrant relationship with Him, through His Son, the Lord Jesus Christ. To bring us to that closeness, He calls for every person back to:
Righteousness in our lives through and through
Truth and Biblical morality
The Bible as our absolute and only source of truth from God
Exalting Jesus Christ alone without any competition
Making our families' relationship with God of highest priority
All of that is accomplished only through powerful praying, and preaching the life changing truths of God's word, the Bible!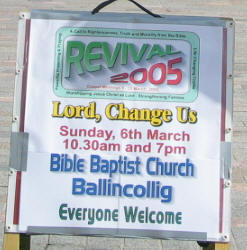 Schedule of Events
At the Westgate Foundation in Ballincollig
6 - 13 March, 2005
(Click on a hyperlink to see pictures of each day's events)
Don't Miss a Single Meeting!
THE PREACHERS
Pastor Benson pastors the First Bible Baptist Church of Plainville, Connecticut, in the USA. His preaching will only be a blessing, and will challenge our hearts for God! He is a super preacher, and speaks in churches all over the world!
We are privileged to have he and his wife with us! Make sure you welcome them!
Pastor Craig Ledbetter has been pastor of the Bible Baptist Church of Ballincollig for the past eleven years, and will endeavour to help each person in every meeting know the truths of eternal value from God's word, the holy Bible!
Pastor Greg Durham has just arrived in October of 2004, and is such a blessing to our church. His preaching will bless and encourage every hearer hungry for the truths of God's word!
Special Singing Groups
The John Young Family come all the way from the Northwest coast of the United States. They will be playing banjos, violins, guitars, and other instruments. They, along with others will bless your heart with such uplifting and encouraging music and songs! You won't want to miss a thing!

Listen to two songs that will be sung in the meetings here (you will need RealPlayer)

I Aint a Quittin Now
I'll Fly Away

To listen to the music, you'll need RealPlayer Basic.
To download it click below:
Real Media Player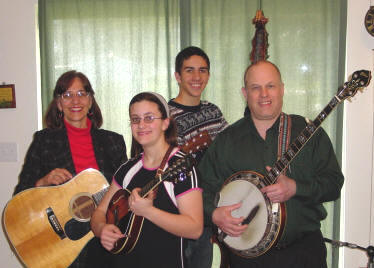 The John Young Family

What a Blessing!
For Whom is this kind of a meeting?
For the Christian - it will really encourage and strengthen us in our lives for the Lord! For the unsaved - Tom will give a clear presentation of the Gospel, and if we invite folks, people will hear and will respond to Christ!
Where is all this happening? The Westgate Foundation, at the West End of the Main Road of Ballincollig, Cork.