Tell me the story of Jesus
Write on my heart every word
Tell me the story most precious
Sweetest that ever was heard

Tell how the angels in chorus
Sang as they welcomed His birth
Glory to God in the highest
Peace and good tidings on earth

Tell of the cross
where they nailed Him,
Writhing in anguish and pain.
Tell of the grave
where they laid Him,
Tell how He liveth again.

Love in that story so tender,
Clearer than ever I see.
Stay, let me weep
while you whisper,
Love paid the ransom for me.
A Christmas Choir
Presentation,
Performed By
the many voices of
The Bible Baptist Church Choir
Songs Include:
Tell Me the Story of Jesus
O Come O Come, Emmanuel
How Should a King Come?
O Holy Night
The First Noel
What Child is This?
Hark the Herald Angels Sing
Away In A Manger
Silent Night, Holy Night
The Wonder of Wonders
We Three Kings
Once in Royal Davidís City
O Little Town Of Bethlehem
Joy to the World
Good Christian Men
In the First Light
O Worship the King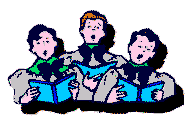 Sunday, 19th December, 2004, at 10:30 am
Westgate Foundation
on the West End of Ballincollig, Cork
For More Information Contact
Craig at 021-4871234 or email

Everyone is Invited
Admission is FREE