Christian Youth Camp 2003
Theme: "The Flesh Against the Spirit"
Contrasting Right and Wrong, Truth and Lies, Light and Darkness
in other words,
Why We Find It Hard to Do Right!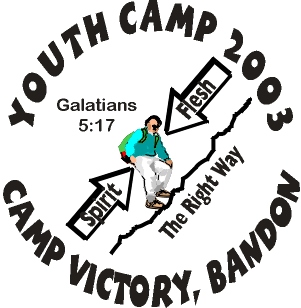 Make plans to attend this special get-away for every young person aged 8 - 16 to spiritually charge their hearts to serve our Great God!
August 4th – 8th (Mon - Fri), 2003
Bandon, Co. Cork
Fully fitted kitchen, indoor and outdoor sports, beds provided (just bring sheets, pillow and blanket), lots of food, preaching, fun, hiking, and spiritual nourishment as we are challenged to live for and love God!
Special Speakers and their families are coming as well! DON'T MISS IT!
*** FULLY SUPERVISED ***
Contact Pastor Craig Ledbetter (021) 4871234
For information, and to sign-up!
(Our T-Shirt Design for iron-on transfer at camp!)
YOUTH CAMP VITAL INFORMATION
Purpose: to help us get closer to the Lord Jesus, and have a GREAT time together!

Theme: "Contrasts"…Some things are just black and white

When: Monday - Friday, August 4th –8th, 2003. We will be finished by 3pm Friday. If you can only attend for a portion of the time, please come anyway, and be a blessing - let Pastor Craig know

Location: Bandon Faith Mission Camp (see directions below) if you know the way, plan on arriving at the Camp by 3pm, or meet at 29 Westcourt Heights, Ballincollig by 1:30pm Monday.

This is a spiritual retreat, so no short-shorts, no radios. Girls are to be modestly dressed at all times. We won't go swimming, but we will have great water-balloon fights!

Cost: €55 per person (includes the food, and the overnight charge at the Camp for the 5 days)

Telephone at Camp: 087-276-6764, or 023-44153
Things to Bring:
Your Bible

Pad of paper and Pencil or Biro

Pillow, bed sheets and blankets

Bath towel and soap

Several changes of clothes

Any sporting equipment you would like to use

Torch, if you have one

Extra shoes you can hike in

€55 preferably on arrival – (can be paid over time)
PRAY FOR GOOD WEATHER, AND SOFT HEARTS!
Bible Baptist Church - Blarney and Mallow
Pastor Craig Ledbetter (021) 4871234
Directions to Camp
- In Cork go West on South-Link Road
- Go to the last round-about
(you will see a Dunnes Shopping Centre, and a Buckley's DIY
- Look for sign for Bandon/Kinsale
- Take N71 South towards Bandon
- At Bandon, go into town and get on Dunmanway Road R586 going West
- Drive 3 Miles to crossroad, go right and immediately left
- Straight ahead is the Camp
-

If you get lost, ring 087-276-6764