The Christmas Story IS for Today
The fool confidently says, "There is no God" (Psalms 14:1). The cousin of the fool says, "If there is a God, He doesn't care," and the child of the fool says, "God doesn't matter anymore." That's why they are all known as "fools."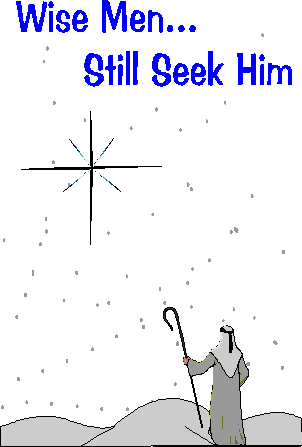 It is the wise who still seek Jesus, to know Him, love Him, trust Him, follow him, and to serve Him.
But, there aren't many wise people today – most people think too many things are more important than the miracle of God coming to earth in the flesh, and fulfilling the requirements of the Law, loving nothing but sinners, being crucified at the hands of those sinners, and then rising up again three days later! There's NOTHING more wild, or amazing than all that happened in the life of Jesus!
Wise Men Know there is a God.
At the birth of Jesus, several smart men, real wise-guys, from Babylon set out on a journey to meet with, and worship the new King of all the earth. The Bible told them:
There shall come a Star out of Jacob, and a Sceptre (ruler) shall rise out of Israel. (Numbers 24:17)
Yea, all kings shall fall down before him: all nations shall serve him. (Psalm 72:11)
For unto us a child is born, unto us a son is given: and the government shall be upon his shoulder: and his name shall be called Wonderful. Counsellor, The mighty God, The everlasting Father, The Prince of Peace. (Isaiah 9:6)
Wise Men Know that God Does Care.
God knows all about our troubles, and instead of walking away from this mess we call 'life,' He actually stepped down into it, and conquered it – because he cares!
Therefore the Lord himself shall give you a sign; (that He cares) Behold, a virgin shall conceive, and bear a son, and shall call his name Immanuel (Isaiah 7:14) which means, "God with us."
No greater love could be shown than when the all holy God came into a sinful world, and to the amazement of all of heaven's angels, took the blame for all our wrongs. God sacrificed HIMSELF in order to obtain forgiveness for US!
In the beginning was the Word, and the Word was with God, and THE WORD WAS GOD. The same was in the beginning with God. And the Word was made flesh, and dwelt among us. (John 1.1, 2, 14)
Surely he hath borne our griefs, and carried our sorrows… But he was wounded for our transgressions, he was bruised for our iniquities. (Isaiah 53:4,5)
Wise Men Know that God does Matter.
Without Jesus taking the sinner's place on the cross, there is no other hope of salvation – there is no other Saviour! Mary, the church, all your good works, just won't balance things out. Only Jesus paid for your sins in full! If a person thinks that God doesn't matter today, that person truly is a fool, and has no hope at all – pity.
Wise Men Freely Receive God's Gift
"The gift of God is eternal life, through Jesus Christ our Lord" (Romans 6:23). Jesus died to give you the forgiveness of your sins and eternal life. There could be no greater Christmas gift than this!
So what will you do?
Please, Take the gift! Don't just "go on" with your life, and expect everything to turn out fine in the end! That would be an empty Christmas, and empty life, and a lost eternity. God said "Unto you is born this day… a Saviour!" Only a fool ignores such a gift as Salvation!
To receive that gift, you must REPENT of your sinfulness (dump it), and turn to Christ in desperate faith, asking in prayer to be fully forgiven, and saved from hell.
In other words, Ask God in prayer to have mercy on you, and save your soul from your sins, and from hell. God promises, "For whosoever shall call upon the name of the Lord shall be saved" (Romans 10:13)!
If you are not saved, PRAY and ask God's Son to cleanse you right now and make you His child!
If you have decided today that Jesus Christ is your Saviour and Lord, write us and let us rejoice with you!
Any questions? Need help?
Want a free New Testament, or Bible Study? Please contact:
Bible Baptist Church of Blarney
Sunday Meetings 10.30am and 6pm, TA Hall, Blarney
Tel: (021) 4871234 Web: www.biblebc.com E-Mail: biblebc@gmail.com
Post: 29 Westcourt Heights, Ballincollig, Cork