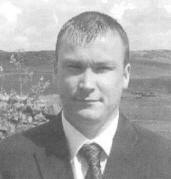 Caught in addiction, bound by the chains of sin.

Does this sound like anybody you know? This is the heartbreaking story of Layton Kelly, a native of Tallaght, Dublin, Ireland.
He grew up like any other young boy in the area, but something happened.

In his early years, Layton attended Kiltalawn Primary School. Like many, he was Roman Catholic by birth, but only attended church on special occasions. At twelve years of age he was invited to a football camp presented by Lifegate Bible Baptist Church. At the camp he heard the message of salvation, the message that Jesus Christ could save him from going to hell for his sin. Looking around at the camp leaders, he realized that they had something different, something he wanted. They were bright, happy people. That day, Layton decided to put his trust in Jesus Christ alone to save him from his sin and take him to heaven when he would die. He began studying the Bible and attending Lifegate Bible Baptist Church, and was excited about his new life of knowing God.

Things were going well until he reached the early teenage years. He started getting into trouble in school, and got involved with an older crowd. From there, things only went down hill. Layton's story is one of heartache, for himself and those around him. He stopped going to church and turned his back on God. He began stealing cars and doing drugs. Ecstasy, LSD, marijuana, heroin, and other drugs became the habit of his early teenage years. Like thousands of others, he became what we know as "a heroin addict." The next few years are a blur in his life. Trapped in the vicious cycle of addiction, he lived aimlessly, hurting himself and those around him. "I couldn't see a way out. I tried to get off heroin so many times, but I would only last about a week, not even. I tried methadone programmes, doctors, psychiatrists, but nothing seemed to work. I resigned myself to the fact that I would be a heroin addict for the rest of my life." The future appeared absent of hope.
At the age of twenty, after taking sleeping pills, he ended up back at the door of Lifegate Bible Baptist Church pleading for help. Pastor David O'Gorman took him in for five months and helped him to prepare for drug rehabilitation. He then went to a Christian centre in Scotland and spent eighteen months recovering and building a new life. His recovery was successful because of the power of God. After he completed the program, he became a member of staff and worked there for two years.

Today, Layton is happily married and expecting the birth of his first child. When asked how his life has changed, he said, "I have hope." He has returned to Tallaght to settle down with his family and reach out to those who are caught in the vice of addiction. He has the message of hope, and is living proof that the power of God is able to take any person and bring them out of addiction. If you are struggling with an addiction problem of any kind, are suffering because of another person's addiction, or if you know somebody who needs victory in their life, you can contact Layton at 01-4515574 to get help.